India once again, dashed Pakistan's hopes of avoiding world cup ignominy in the hands of their arch-rivals, as India once again scored a facile 76-run victory and kicked-off their world cup campaign in style.. Both teams started-off on a poignant note, having been in indifferent form and badly wanted to win in a highly awaited,  nerve-wrenching, high voltage contest on a batting friendly wicket in Adelaide. Whoever won the match, derived an early advantage, momentum and confidence, in seamer-friendly conditions down under. However, Pakistan failed yet again, and went down tamely to India by 76 runs. India now command a 6-0 margin over their bitter rivals in a world cup showdown, in as many world cups.
MS Dhoni, the Indian captain, won the toss on a featherbed of a wicket and elected to bat first. India started steadily, before Rohit mistimed an intended pull to hole out at mid-off. Indian super star, Virat Kohli, arrived at the crease at his favorite no.3 position and looked at ease, right from the word go, timing and defending the ball, brilliantly. He along with another opener, Shikhar Dhawan, batted sensibly, picking up runs at will,  while also smashing boundaries, when Pak erred in line and length. Shikhar did himself a big favor by getting back into form with run-a-ball-innings. He was run out, when he backed up too far and could not beat the direct throw at non-striker's end.
Virat was unrelenting though and has been the center of attraction. Unfazed by two dropped chances, he crafted a wonderful innings of 107, scoring his 22nd century of his career. Raina, who joined after the fall of Shikhar, played the aggressor and hit 3 towering sixes. He made a whirlwind 74 of just 56 balls.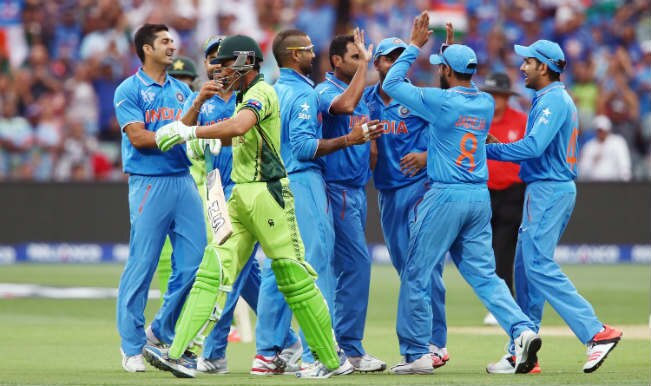 Late order Indian batters failed to accelerate as Pak bowled a few good voers but could not prevent India from reaching 300 in their quota of 50 overs. A definite psychological advantage.
Pakistan began their chase in a disastrous fashion and lost an early wicket when veteran batsman Younis Khan fended-off a Mohd. Shami bouncer, to be caught by Dhoni who ran around to effect the first breakthrough. There was some resistance from the 2nd wicket pair of Ahmed Shehzad and Harris Sohail, who pulled-off some brave shots, but the target was a stiff one. Captain Misbah-ul-Haq made a responsible 76, but Pakistan was battling an uphill task, with the asking rate mounting all the time. Umar Akmal fell to a debatable decision while Shahid Afridi once again played a loose shot in his usual maverick style and perished in the deep on offside. Pakistan folded up for 224 eventually and India pulled off an essential victory that could well boost their morale and arm them with the much required confidence to defend their world champion status away from home.
Mohammad Shami picked up 4 wickets, while Mohit and Umesh took 2 a piece. Spinners bowled some tight overs in the middle. MSD looked in control and the whole team was laughing again. They are in an easy group and face South Africa in their next match, the only tough opponent.
India was partly written-off after their poor showing in the tri-series that preceded the cricket world cup that included England and the hosts Australia. Nevertheless, this victory should do their confidence a world of good and put them in the right frame of mind for a positive campaign.
Image courtesy: bcci.tv, sports.ndtv.com.